What is Lil Durk's Net Worth – FAMOUSUPDATES
Lil Durk Growing Up
On October 19, 1992, in Chicago, Illinois, he was born. Lil Durk, also known as Durk D. Banks, grew up on Chicago's South Side in the tough neighborhood of Englewood. Durk was only seven months old when his father was imprisoned. Durk recalls times when there was not enough food in his home when he was a child.
Durk's first break came at a young age thanks to social media platforms such as MySpace and YouTube. Durk became a father for the first time at the age of 17 and dropped out of Paul Robeson High School to join the Black Disciples, a Chicago street gang. He began to have run-ins with the law and was arrested on multiple gun charges, eventually pleading guilty to the aggravated unauthorized use of a weapon.
Lil Durk Personal Life
Lil Durk is a devout Muslim. Dontay Banks Sr., Lil' Durks' father, served two life sentences without the possibility of parole. The specifics were never revealed. Durk is the father of six children, each of whom is the product of a different mother. Angelo, Bella, Zayden, Du'mier, Skylar, and Willow are his children.
Lil Durk proposed to Instagram model India Royale in 2021.
Lil Durk Career
Lil Durk was initially associated with the Glo Gang label, which was promoted by Chief Keef. He was never signed to the label, though. As a result, Lil Durk began to forge his own musical identity. Lil Durk released the mixtape 'Life Ain't No Joke' following the success of his first two singles. This mixtape was downloaded 216,000 times from the online mixtape distribution platform DatPiff.
Social media platforms were instrumental in popularizing 'Life Ain't No Joke.' He took a huge step forward in his career with the release of his first album, 'Remember My Name,' in 2015. The songs on the album are inspired by the Chicago street violence he witnessed as a child. The album was a big hit, reaching number fourteen on the Billboard 200 chart.
Lil Durk released his sixth mixtape, '300 Days, 300 Nights,' the same year. To promote the mixtape, a single called 'My Beyonce' was released. The song featured his love interest, Dej Loaf. Critics praised this mixtape as a refreshing change from his previous releases, which mostly focused on drug violence in his birth neighborhood.
On July 22, 2016, his second studio album, 'Lil Durk 2X,' was released. Two months before the album's release, a single called 'She Just Wanna' featuring another rapper named 'Ty Dolla Sign' was released in order to generate buzz for his second album. Durk's second label fared better than the first.
What is Lil Durk's net worth? is estimated to be $8 million as of this year.
Highlights
Some of Lil Durk's best moments:
Bloodas (Album, 2017)
No Label (Song, 2019)
Lil Durk's Career and Achievements
Lil Durk began his career in 2011. He released two singles in 2011, Sneak Dissin and I'ma Hitta. Both songs received positive feedback from everyone. Later, in late 2012, he released the mixtape Life Ain't No Joke, which was a huge success, and by 2015, the album had been downloaded thousands of times.
In 2013, he founded the Only the Family collective and record label. Lil Durk is also the label's lead singer. In 2014, he released the Signed to the Streets mixtape series, which catapulted him to massive success and popularity. Later that year, he signed with Def Jam Recordings and released his debut album, Remember My Name (2015). You might also be interested in Jade Thirlwall Net Worth.
In 2018, he left Def Jam Recordings and later signed with Alamo Records. Lil Durk's most successful singles include Viral Moment, 3 Headed Goat, Backdoor, The Voice, and many others. Lil Durk has never won an award or accolade, but he has been nominated numerous times.
What is Lil Durk's net worth is roughly $8 Million. 
Tragedies
McArthur "OFT Nunu" Swindle, Durk's cousin, was assassinated. Durk's friend and manager, Uchenna OTF Chino Dolla Agina, was shot and killed the following year in March 2015. Lil Durk's close friend King Von was murdered in Atlanta on November 6, 2020. Durk's brother, Dontay "DThang" Banks Jr., was tragically killed at a Chicago nightclub on June 6, 2021. Durk was the target of a home invasion in July 2021. The suspects fled after he and his fiance exchanged gunfire. Thankfully, no one was hurt.
Personal strengths and productivity habits of Lil Durk
Lil Durk credits his success to his unwavering pursuit of celebrity. He claims that his time in prison taught him valuable life lessons, and that if it hadn't been for his music career, he would have died as a result of gang violence.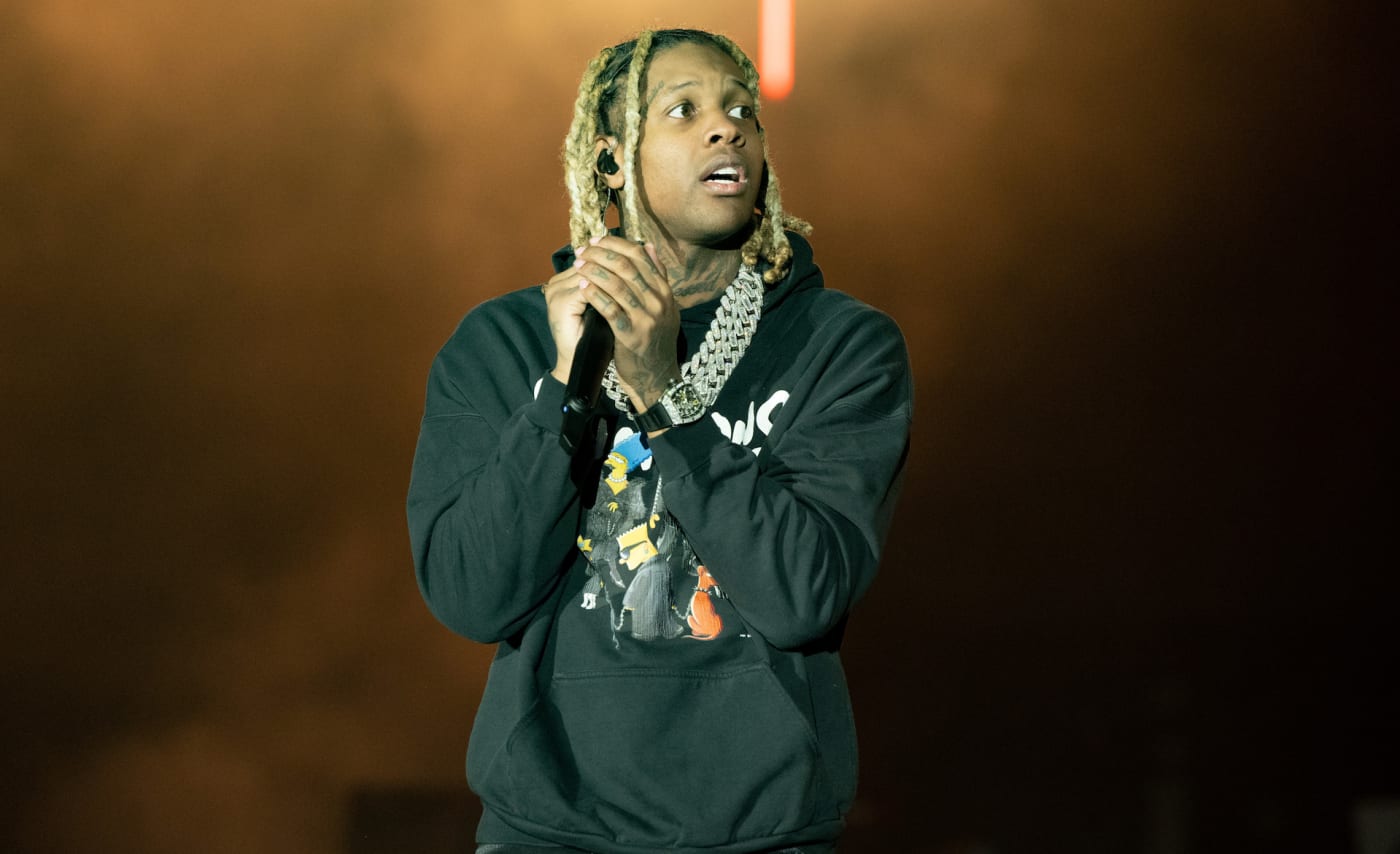 Photo by Scott Dudelson/Getty Images: What is Lil Durk's net worth?
Lil Durk's Legal Problems
Following his 2011 weapon charge, Lil Durk continued to run afoul of the law. He was returned to prison after being released on bond for another 87 days. On June 5, 2013, Banks was arrested once more on Chicago's South Green Street after allegedly throwing a loaded handgun into his car when approached by police. A $100,000 bond was set for Lil Durk. His lawyer claimed to have nine witness affidavits confirming Durk's innocence, with one witness admitting he was the one who fired the gun. Durk debuted in July 2013.
A shootout occurred in September 2015, just hours before a scheduled concert at the Theatre of Living Arts in Philadelphia, Pennsylvania, killing one man and damaging Lil Durk's tour bus. Durk was not involved, according to reports, and was not arrested or questioned by police. Dirk was arrested in August 2016 on felony gun charges, but the charges were later dropped and he was cleared.
Durk and friend King Von were arrested on attempted murder charges in June 2019. According to prosecutors, the two men robbed and shot a man outside a busy Atlanta drive-in. They are accused of robbing the man for a Jeep Cherokee and $30,000. Durk and Von were released from jail after a few weeks on bonds of $250,000 and $300,000, respectively.
Lil Durk Assets
Home:
Lil Durk is an American who has spent the majority of his life in America and has worked in the American music industry. Durk splits his time between Chicago and Florida. He owns a home in both locations.
Car collection:
Lil Durk has always expressed his desire to drive a car.
Durk owns a stunning Range Rover
a Chevrolet Camaro GT
a Ford Mustang, and several other vehicles.
Must Check R Kelly Net Worth.
What is Lil Durk's Net Worth Conclusion
Lil Durk is a Chicago-based upcoming American rapper. He became interested in music at a young age and self-released his first mixtapes through his own OTF label. He later signed with the prestigious recording label 'Def Jam Recordings,' and is now regarded by analysts as the best rapper to have ever been associated with the label.
Lil Durk is a very successful and hardworking individual who has worked very hard to accomplish this feat. He spent his childhood in poverty and was forced to work from a young age. He never gave up, however, and pursued his passion for singing. Lil Durk rose to prominence in 2011, and he has since become a global icon. His songs and albums have received a lot of praise and admiration. He, too, has millions of followers.